Epilogue, more like epi-long!
Author Hailey Piper joins The PikeCast to deconstruct Christopher Pike's 1996 Sci-Fi novel The Starlight Crystal. What starts out as a straight forward discussion about the book descends quickly into madness as nearly all of the Pikers lose the thread and find an inability to really discuss the book as it is.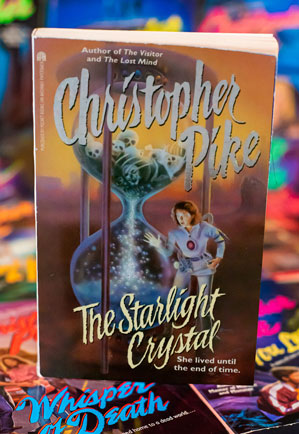 The secret mission lasted forever.
It is two hundred years in the future. Eighteen-year-old Paige Christian has been given a chance to join the crew of the Traveler — a special spaceship designed to circle the solar system at near light speed. One day aboard the Traveler is equal to ten years on earth. The Traveler is a time capsule as
well as a spaceship. Its purpose is to study the changes on earth throughout two centuries, and then return home.
But something happens to the Traveler. Something also happens to the earth, an awful thing. And the years pass, billions of them, and still Paige Christian lives, and remembers all those she left behind. Until the day she finally does come home, to a world and a future no human being could have imagined.

Hailey Piper is the author of several horror books, such as The Worm and His Kings, The Possession of Natalie Glasgow, Benny Rose the Cannibal King, Queen of Teeth, and most recently her short story collection Unfortunate Elements of My Anatomy. She's a member of the Horror Writers Association, with short fiction appearing in Dark Matter Magazine, The Arcanist, and Year's Best Hardcore Horror. She lives with her wife in Maryland, where they move much much slower than the speed of light.