This is what we look like.
Author Hailey Piper returns The PikeCast to dig into another of Christopher Pike's adult novels, 1994's The Listeners. While touching on many of Pike's recurring themes, including ancient lizard races, The Listener finds a way to be truly terrifying, often as it draws us into a group that may or may not be a cult.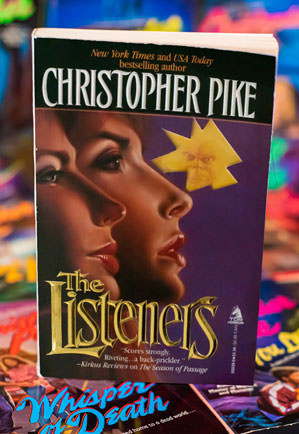 FBI agent David Conner is investigating the Listeners, a channeling group that seems to have access to highly classified information. Though he quickly falls in love with Lucy, one of the twins who are the heart of the group, David remains skeptical about the Listeners' power – until an astonishing experience convinces him that they really can reach into humanity's past and carry ancient wisdom to the present.
But wisdom is not all that lurks in the past, awaiting innocent discovery. The Listeners have tapped into an ancient evil that intends to remake first David and the woman he loves, and then all of mankind, in its own horrifying image.

Hailey Piper is the author of several horror books, such as The Worm and His Kings, The Possession of Natalie Glasgow, Benny Rose the Cannibal King, Queen of Teeth, and most recently her short story collection Unfortunate Elements of My Anatomy. She's a member of the Horror Writers Association, with short fiction appearing in Dark Matter Magazine, The Arcanist, and Year's Best Hardcore Horror. She lives with her wife in Maryland.