Maybe all this had something to do with aliens.
Filmmaker Jenn Wexler joins The PikeCast to talk about Christopher Pike's 1999 novel The Grave, its similarities and differences from earlier Pike novels, and the growth of the author. It's a confused story of zombies, genetic engineering, Jesus babies, and vampirism, and it's all VERY Pike.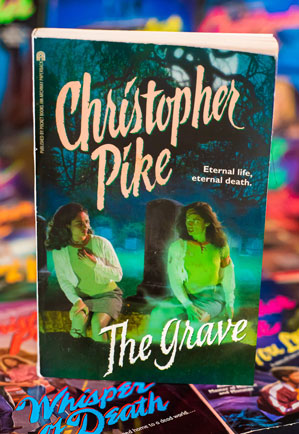 The Grave is not the end of the story…
It begins with an innocent young man being led deep into the woods by a mysterious young lady. There he is attacked by a cruel cult, stripped of his clothes, thrown naked into a coffin, and buried alive to the sound of strange chants.
It continues with a pretty girl meeting a fascinating guy. A guy who is not like other guys. Who hardly seems to blink…or breathe, and who emits a cool presence even in the midday sun.
It ends in a nightmare. In a weird realm of existence where life and death mirror each other. Where the grave no longer promises any escape, from pleasure or pain.