The one with the emergency butt icing.
The PikeCast is thrilled to be joined by author of Horrorstor, My Best Friend's Exorcism, and Paperbacks from Hell, Grady Hendrix to discuss Christopher Pike's 1989 book Remember Me, a tale of murder, the afterlife, jealousy, suicide, body switching, baby swapping, one too many sets of adults, and, of course, incest. We also learn of at least one strange family's solution to diabetic episodes.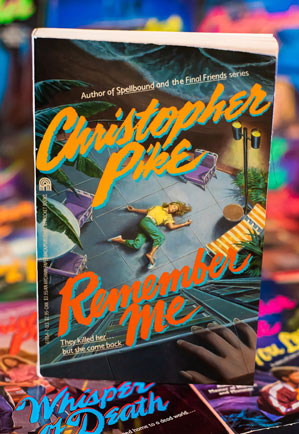 She did not understand that she was dead.
When Shari Cooper awoke at home after being at her girlfriend's birthday party, her family acted like she wasn't there. They didn't hear a thing she said. They wouldn't even look at her.
Then the call came from the hospital. Her father and brother paled. Her mother started to cry. Shari didn't know what was wrong. Not until she followed them to the hospital.
There she found herself lying on a cold slab in the morgue. The police said it was a suicide. Shari knew she had been murdered.
Making a vow to herself to find her killer, Shari embarks on the strangest of all criminal investigations. One in which she spies on her old friends, and even enters their dreams—where she comes face-to-face with a nightmare from beyond the grave. THE SHADOW—a thing more horrible than death itself. The key to Shari's death.
The only thing that can stop her murderer from murdering again.