You never forget your WORST time.
The PikeCast is thrilled to welcome back author of The Final Girl Support Group, My Best Friend's Exorcism, and Paperbacks from Hell, Grady Hendrix to discuss our first book for Sequel September, Christopher Pike's 1994 book Remember Me 2: The Return, a bizarre rehash of the plot of the first book laden with a ridiculous amount of Latinx stereotypes, an astonishing seeming hatred for the disabled, and a plot that seemingly cares so little about its main characters that it first takes a short story digression that has nothing to do with the main plot yet lasts 13% of the page count, and then just removes all but one of the characters from the first half in favor of the first book's characters. Join us for the lowest rated Pike book so far!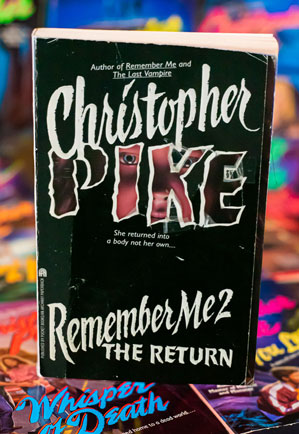 They called her a Wanderer.
Shari Cooper is dead, the victim of a murderous attack. She is on the other side, in a place of spirits, an eternal realm of light and love. But she is given a rare offer. To return to earth without having to be reborn. Into the body of a depressed teenage girl. A transfer of souls, they call it. Shari is given a chance to be a Wanderer, and to do a great service for humanity. It is an offer she gladly accepts.
Then she is back, in a human body. Yet she does not remember being Shari Cooper. At first she recalls nothing of the afterlife. Perhaps it is just as well. Not everybody on earth welcomes Wanderers. Of the few who know of their existence, some want them dead. And others, the truly evil ones, wish them much worse than that.