Why don't we just drown the rah-rahs this weekend?
Randall Colburn, co-host of The Loser's Club podcast and editor at AVClub.com joins PikeCast hosts Cassie, Becca, and Cooper to talk about Christopher Pike's 1988 novel Gimme a Kiss, a saga of sexual shame and embarrassment that leads to convoluted plots, murder, pretend suicide, and made up diary entries about sex.
Some secrets are worth dying for…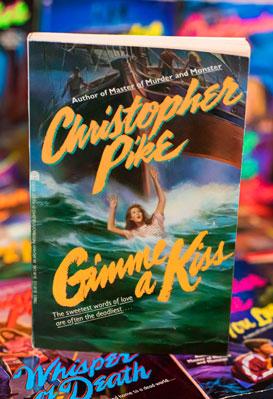 Jane Retton would never let anyone read her diary. After all, it was filled with her wildest secrets – the sort of things she wouldn't even tell her closest friends.
Then something terrible happened.
Somehow her diary ended up at school. And soon, everyone was reading her final, shocking entry.
Some girls would simply die.
Other girls would kill.
But Jane Retton…she would do both…

Randall Colburn is a writer, podcaster, and occasional playwright who is currently the Internet Culture Editor at The AV Club. He is also a talking head in Best Worst Movie, the documentary about Troll 2.