Why are there so many characters?!
Gory Cory joins us as we go back to the early days for 1986's Chain Letter, and are immediately overwhelmed by far too many characters, some really nonsensical twists, and someone who must have superhuman strength to pull all this off.
We also must share The Haunted Outfit's Joan
https://www.instagram.com/p/CAlZZv_l5ai/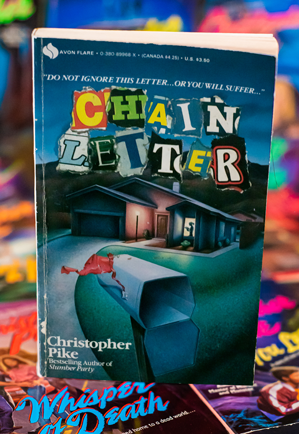 She did not understand that she was dead.
When Alison first read the chain letter signed "Your Caretaker;' she thought it was some terrible sick joke. Someone, somewhere knew about that awful night when she and six other friends committed an unthinkable crime in the desolate California desert. And now that person was determined to make them pay for it.
One by one, the chain letter was coming to each of them…demanding dangerous, impossible deeds…threatening violence if the demands were not met. No one out of the seven wanted to believe that this nightmare was really happening to them. Until the accidents started happening
-and the dying…