Murder, Intrigue, and Scuba
Fly to Hawaii with the Pikers for a week filled with scuba instruction and death and scuba discussions and nightmares and scuba diving and betrayal and scuba subterfuge. In 1992's Bury me Deep, the gang finds a suspense (and scuba) filled story with ghosts, murder, betrayal, and boyfriend stealing. They're joined by Nico Bell, a newcomer to Pike, who can't get over her motherly instinct that someone allowed these KIDS to go to Hawaii on their own!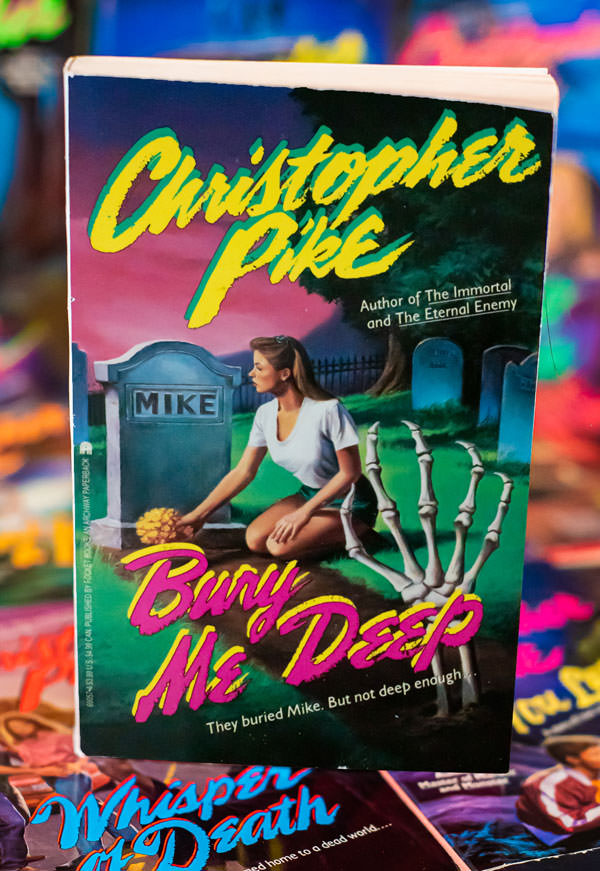 The dead boy would not go away.
Jean is on her way to Hawaii for a week of fun in the sun. But the vacation gets off to a gruesome start. The boy sitting beside her on the plane suddenly chokes and dies. Jean tries to push the incident out of her mind when she arrives on the island, but finds it impossible.
Part of the reason is because Mike keeps coming back to her in her dreams. Horrible dreams filled with cold blood.
Two of Jean's friends are waiting for her in Hawaii – Mandy and Michelle. They have already made friends with two young men who teach scuba diving at the hotel – Dave and Johnny. Jean and Johnny quickly become friends. But there are problems in paradise. Besides Jean's continuing nightmares, Dave and Johnny have recently lost a partner in the ocean. No one knows how he died. No one can find his body. But then Jean finds Mike's body. It isn't where it's supposed to be, and it seems as if it's still got some life in it.

Nico Bell is the author of Food Fright, and she is the editor of Shiver, A Chilling Anthology. Her short stories have been published in many anthologies including Gothic Blue Book IV A Krampus Carol and The Second Corona Book of Horror Stories. In addition to writing and editing, Nico is a book reviewer for ScifiAndScary and Publisher's Weekly.